Want to dip your toe into the world of mindfulness but don't know where to start?  Or maybe you're not so new to it and you want to get back on track. 
Would you like to work with focused intention, feel up to 40% happier without buying a thing, sleep better or gain peace of mind? 
If so then there is something here for you. 
From my years of teachings I have taken the nuggets of mindfulness gold and created three FREE mindfulness goody bags.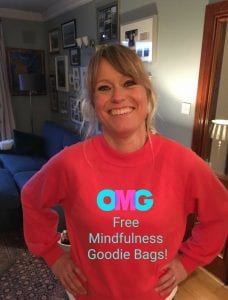 A short video explanation
An approx 15 minute mindfulness meditation
A PDF summary
Choose one of the following:
Mindfulness for overthinking
Mindfulness for overwhelm OR
Mindful happiness
These are otherwise only available in a 15-day package that costs €45
"I used the meditation before work today and found it really helpful. Have started to write down a few bits of what is making me anxious, how to deal with it and what I have to be positive about. Thank you Ellen"
Choose one of the following
Mindfulness for overthinking
This is for you if you are experiencing:
problems getting to sleep at night
waking up in the middle of the night with your mind racing
having too many racing thoughts, no clarity or focus
Mindfulness for Overwhelm 
This is for you if you experiencing:
feelings of overwhelm – such as shortness of breath, anxiety, stress and worry.
procrastination – Finding it difficult to start or complete tasks
 a lack of focus
Mindful Happiness
This is for you if you are:
looking to feel happier right here, right now
aware its an inside job and want to harness the power of gratitude to change their perspective.
know that you can't buy long term happiness
Simply fill out your details below and you will be sent instructions as to how to claim your free Mindfulness goody bag. 
Please feel free to get in touch if you've any questions or queries. 
Ellen
Sign up to claim your FREE Mindfulness goody bag!
Choose one of the following: Mindfulness for Overwhelm, Mindfulness for overthinkers or Mindfulness Happiness.